Shares and discounts
Learn more...
Mark WEGAME 4.0 in your calendar – the main gaming event of Ukraine!
12 March, 2018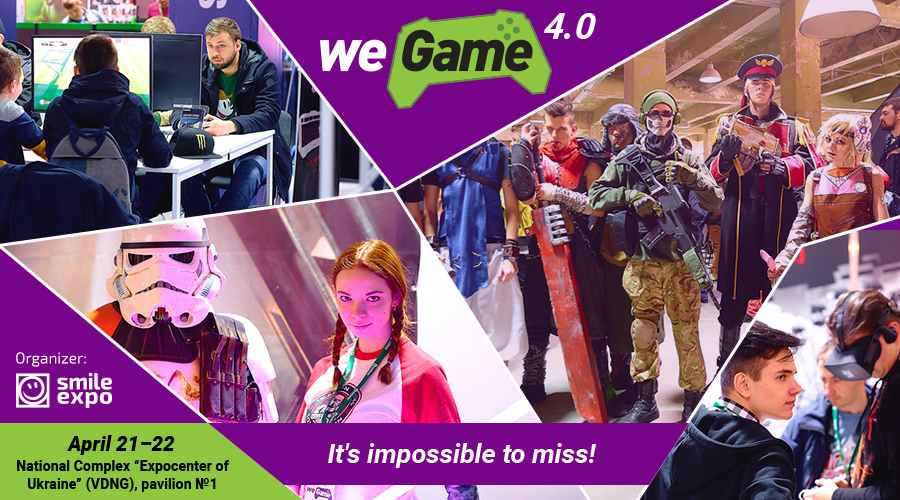 Are you a gamer, geek, cosplayer, developer? Do you enjoy cheerful parties? Don't miss! On April 21-22, 2018, WEGAME 4.0 festival, a cool event created especially for you and your likeminded mates, will take place at the National Complex "Expocenter of Ukraine" (VDNG), pavilion №1.
That will be spectacular, interesting, and simply a big fun. Give it a try – life becomes better when there is more cosplay, games, and cool people.
Cybersport zone
The festival will traditionally feature e-sports competitions for professionals and amateurs such as CS:GO and Dota 2 tournaments, FIFA 18 competitions. Apart from vibrant emotions and joy of competing against decent rivals, the best players will receive cash prizes and valuable presents.
Cosplay show
Unique in terms of the atmosphere, the cosplay show is divided in three categories this year: "Films, cartoons, serials", "Comics and fiction", "Video games". Authoritative and impartial judges, well known to the cosplay community of the country, will choose the best performances.
Three first judges are already known.
Marianna de Mort – cosplayer, stage director, TV presenter, and artist.
Marianna worked as a presenter of TV show Igronavty, a model at the international festival Deti Nochi: Chorna Rada 2010 (Children of the Night: Black Council), and at the annual festival VAMPIRE DECADENCE. Her photos decorate music collections of amateur groups and the cover of the Gothica magazine.
Julia Melnik – makeup artist, cosplayer, artist and participant of TV projects.
Julia got interested in complex makeup and created her first look for the US contest back in 2014, and in 2016, she won an educational grant for studying at the Hollywood's best Cinema Makeup School. After receiving prestige American education, Julia has returned to Ukraine and continues working on her projects.
Mariya "Fenix Fatalist" Karpenko - bodacious cosplayer, founder of the laboratory of costumes FD Studio, private entrepreneur.
She has been cosplaying for ten years, and has created over 30 vivid characters over this time. Having turned cosplay into her job, Mariya shares her experience with other artists, willing to create a strong and open community.
Attention, a perk: apart from the possibility to demonstrate your character and win a prize, participants will be admitted to the festival free of charge, whereas attendees wearing cosplay costumes will get a 50% discount!
Open lectures session
Are lectures boring? Usually speakers are so boring and well-read that temples of their glasses cannot be cut off their heads without surgical treatment…
However, WEGAME is breaking the stereotypes! Over two festival days, successful IT startups and popular cosplayers, organizers of e-sports tournaments, developers of software and entertainment content will share experience with you. They are modern and cool, they are like you, and will tell you exactly what interests you.
Names and topics of the first participants of WEGAME 4.0 open lectures session:
Miroslava Valkevich – community manager at Esports.com. Topic: "Why is cybersport useful and why is it important to play computer games";
Gleb Alyokhin – game developer, author of the educational project BUSINESS GAMER. Topic: "Table games in the epoch of VR";
Maksym Bezuglyi – CEO at Attracti. Topic: "Strengths and weaknesses in the production of AAA and indie games";
Vlad Plotnikov – composer, producer, and founder of VP Production. Topic: "Game music: how is it made?";
Svyatoslav Kholod – game designer at Zadzen. Topic: "Generating motivation for a player";
Alexandr Shapovalov – art director at IDA GAMES. Topic: "How to destroy your gaming company";
Alexandra Radchenko – head of research department at Playtestix. Topic: "PUBG: life before and after the release, postmortem".
Follow the updates of lectures session's program in the section "For visitors" on the festival's website.
Awards ceremony
An excellent chance for studios willing to introduce the audience to their products and receive non-biased feedbacks is the WEGAME awards ceremony intended for professional and independent video game developers. They will include both large companies and indie projects. Expert commission and attendees will choose the winners in 10 nominations.
Exhibition area
You won't see a grey cemetery of booths here! When the exhibition gathers the most innovative and creative solutions, when you can play game demos and test the latest gadgets nobody has even heard about – that's when emotions run high!
Traditionally, being a leader in the organization of the trendiest events, the international event company Smile-Expo will ensure the success of the festival.
WEGAME 4.0 has all chances to become the brightest event of your spring. Register not to lose impressions!
Choose your speciality
More about specialities